PNAO
The Philippine Nurses Association of Ohio, Inc. (PNAO) is a non-profit organization that promotes professional, educational, cultural and civic activities to unify Philippine–American nurses.
PNAO was formed in response to the growing need for a concerted effort to address the issues and concerns of Filipino nurses in the state of Ohio.
On June 6, 1992, a group of pioneering nurses, led by Alicia Anloague Tupaz, adapted the bylaws on its first organizational meeting and the PNAO was formally organized. In that same year in 1992, the PNAO became the 16th chapter of the Philippine Nurses Association of America.
Click Here to visit the PNAO Website
Click here to visit the Philippine Nurses Association of Ohio Foundation (PNAOF) Website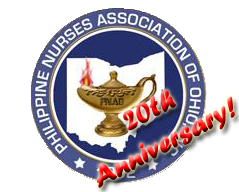 Interesting Facts
The PNAO logo was originally designed by one of its founding members, Lilian Lampa Palanca.